Welcome to Powell Hoffman Homes
Meet Andraya Powell and Chris Hoffman of Powell Hoffman Homes, Solid Source Realty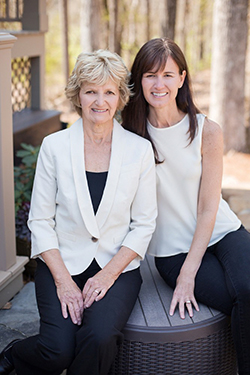 Chris Hoffman and Andraya Powell are a dynamic, award-winning, multigenerational team with over 70 years of experience and expertise as Realtors® serving the North-Metro Atlanta area. Combining service-based values and exceptional results, this purpose filled team has helped hundreds of clients navigate the home buying and selling processes, and have worked to achieve their real estate goals and dreams in every type of market.

Chris Hoffman has been a leader in Atlanta area real estate since 1978. Andraya Powell joined her mother, Chris Hoffman, in 1993 after graduating from the University of Georgia with a BBA in Real Estate. They later formed Chris Hoffman Homes, LLC and recently changed the name to Powell Hoffman Homes, LLC. Over the years, the team has made changes in order to serve their clients best. In 2008, the team moved from RE/MAX Greater Atlanta to Solid Source Realty. SSR has been a leader in sales and agent growth among all Georgia real estate firms since 2005 and is based on biblical principles of service and integrity. Their forward looking innovations have gained broad national acclaim for success in 21st century Real Estate. On December 31, 2021 Chris retired from the day to day activities of real estate. Chris still remains a sounding board for Andraya. Powell Hoffman Homes has hired new young talent to help with all aspects of marketing.

Chris lives on acreage in Milton with her husband, two Arabian horses, barn cat, chickens and two Great Pyrenees dogs. In her free time, you will find Chris tending to her garden or volunteering through her church. Andraya lives in Roswell with her husband, two sons and rescue dog. Andraya enjoys CrossFit, tennis, working on the vegetable garden at Chris' farm and volunteering.